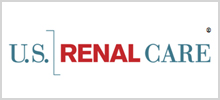 U.S. Renal Care (USRC) was founded in 2000 by an experienced team of healthcare executives. Its senior management team and board of directors include individuals who have worked in a variety of healthcare segments during their careers, including many years of service to dialysis patients.
From its beginnings in Arkansas, USRC has grown to include a network of 35 clinics in Arkansas and Texas, caring for approximately 2,500 dialysis patients.
The company provides patients with a choice of a full range of quality care, including in-center or at-home hemodialysis and peritoneal dialysis services. In addition, the company also manages several acute setting dialysis programs in conjunction with local community hospitals. USRC's clinical results consistently exceed national averages. We support dialysis centers with experienced operations management, strong clinical leadership, and well-trained clinical and support staff.
USRC works in partnership with nephrologists to develop, acquire, and operate outpatient treatment centers for persons suffering from chronic kidney failure, also known as end stage renal disease. We support dialysis centers with experienced operations management, state-of-the-art technology, well-trained facility staff, patient and family education, strong financial resources, and by dedicating ourselves to clinical excellence in the centers. For more information, visit www.usrenalcare.com