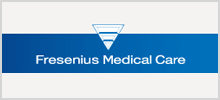 Fresenius Medical Care is the world's largest integrated provider of products and services for individuals undergoing dialysis because of chronic kidney failure, a condition that affects more than 1,400,000 individuals worldwide. Through its network of 2,085 dialysis clinics in more than 100 countries in North America, Europe, Latin America, Asia-Pacific and Africa, Fresenius Medical Care provides dialysis treatment to 161,433 patients around the globe.
Fresenius Medical Care North America operates 1,540 clinics treating nearly 120,000 patients.
Fresenius Medical Care is also the world's leading provider of dialysis products such as hemodialysis machines, dialyzers and related disposable products. Fresenius Medical Care is listed on the Frankfurt Stock Exchange (FME, FME3) and the New York Stock Exchange (FMS, FMS-p).
For more information about Fresenius Medical Care, visit the Company's websites at www.fmc-ag.com or www.fmcna.com