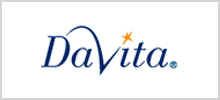 Welcome to the DaVita Village
DaVita is a leading kidney care provider, serving kidney patients with high-quality specialized prevention and treatment services. The DaVita patient population includes over 100,000 patients who have been diagnosed with End-Stage Renal Disease (ESRD), a group representing approximately one-quarter of all Americans with ESRD and approximately one-third of all Americans receiving dialysis services.
Spanning 42 states and the District of Columbia, the DaVita network includes more than 1,200 outpatient facilities as well as acute inpatient units in over 800 hospitals. DaVita's nationwide network is staffed by 28,000 teammates and more than 1,000 medical directors. This comprehensive care team includes nephrologists, nephrology nurses, patient care technicians, pharmacists, clinical researchers, dieticians, social workers, and other highly-trained kidney care specialists.
DaVita cares deeply about our constituents, and we are most proud of our Mission to become the "Provider, Partner and Employer of Choice." Our Values: Service Excellence, Integrity, Team, Continuous Improvement, Accountability, Fulfillment and Fun, are emphasized as part of our planning, recognition, evaluation of performance and in programs and events that support our DaVita Village. These seven values are not disenfranchised words on a page. On the contrary, we make every effort to see they are integrated into the very fabric of our culture.
Like citizens of a village, DaVita teammates draw upon one another's strengths and knowledge, warmth and compassion, as together we provide life-giving services to individuals with chronic kidney disease. Our clinical focus has also delivered dramatic improvements which now rank our clinical performance measures as the best in the industry; several are the best in the world. To learn more about the DaVita Village, please visit our website at www.davita.com