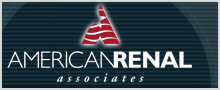 American Renal Associates, Inc. (ARA) is a leading owner and operator of outpatient kidney dialysis facilities operating facilities in partnership with nephrologists throughout the United States. ARA focuses on developing new start-up (de novo) treatment facilities in partnership with physicians and also acquires existing dialysis units in selective strategic markets.
The Company's operating philosophy merges physician autonomy, leading edge patient care and financial partnership between the nephrologist and ARA. ARA brings forth the complete range of resources needed to successfully develop and operate every facility.
The Company manages day-to-day facility operations that include clinical, quality control, regulatory and technical services, billing and reimbursement, general accounting, human resources, purchasing and marketing. ARA also provides complete project management of new facilities.
Individuals whose collective dialysis services experience exceeds 100 years together as a management team formed ARA. Within ten years ARA has become one of the largest providers of outpatient kidney dialysis services in the nation with more than 100 facilities owned, managed or under development. ARA facilities are located in 16 states and the District of Columbia. For more information, visit www.americanrenal.com