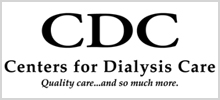 The Centers for Dialysis Care (CDC) is an independent regional provider of dialysis and related services to individuals with kidney failure in northeast Ohio. CDC began in 1974 as a not-for-profit provider in collaboration with the area nephrologists to provide high quality care in a low cost environment. CDC has always been a leader in the utilization of new technology, has had an electronic medical record for more than 20 years and has set the standards for excellence in the community.
Over the years CDC has expanded its facilities to meet the growing demand. CDC's 14 facilities range in size from 10 to 56 stations and are located in urban, rural and suburban areas. Four of the End State Renal Disease (ESRD) facilities are located in nursing homes. CDC has a long history of physician collaboration and many of its facilities are structured as joint ventures. All of CDC's facilities have been new start-ups. Each new facility is strategically located to improve patient convenience while providing enough capacity for patients who live near existing facilities.
CDC has an open medical staff. Most of the more than 70 nephrologists on staff have patients in eight different facilities. This allows the patients to keep their nephrologist and maintain the ability to dialyze at a facility closest to their home or office. All of CDC's facilities operate four patient shifts per day. This provides flexibility for patients to dialyze after work or for their loved ones who provide transportation to come after their work day.
For years CDC has utilized art and music therapists to work with the patients to cope with their chronic illness and the loss of control. Patient artwork is regularly exhibited in the community. Activity coordinators and volunteers also help to pass the time so that the patients stay for their full treatment time.
CDC has a management company that provides a turn key operation for any new facility and all day-to-day clinical and financial management services. CDC has a well-recognized RN and technician training program. All technicians in Ohio are certified by the Ohio Board of Nursing and CDC is proud of its 95% first time pass rate of the BONENT national certification test. CDC's senior management team has in excess of 100 years of experience with the ESRD program and is actively involved in local regional and national organizations to advocate for all renal patients. For more information, visit www.cdcare.org